SECURITY? WE'RE SIMPLY D'BEST
Here at D'Best Windows and Doors, we pride ourselves on the highest in quality standards, security and craftsmanship. We specialise in the replacement of existing windows and doors using only 'D'Best' quality materials available. Our experience filters through to both retrograde fitting and new installations of windows, doors and conservatories.
Get one step ahead of the burglars with our high security locking features provided with installation as standard
Also featured is an Anti-Snap Cylinder, further explained below.
Optional extra: The Heritage Slam Locking System – an automatic 5-point locking system which is operated as soon as the door closes, or 'slams'.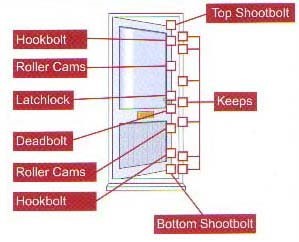 French Doors And Back Doors:
Also included on all High Security doors are a High Security Anti-Snap Cylinder of superior physical strength. With this cylinder you are fully protected against lock snapping, a common method used by burglars to break into a property. It guarantees maximum security for you and everybody in your home. Featured on all our doors – composite, back and French doors – it has break points which allows an interior key to work even if any external snap damage occurs. We provide this free of charge with all our doors installed, included in all prices quoted.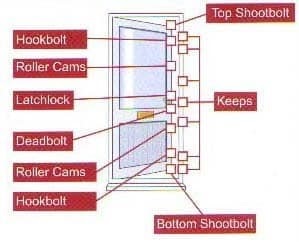 French Doors And Back Doors:
On outward-openers, the hinges are external and therefore exposed to hinge-lifting. However, with two dog-bolts on each door, this high security internal feature stops hinge-lifting from the exterior, locking the door to the frame from inside for enhanced security.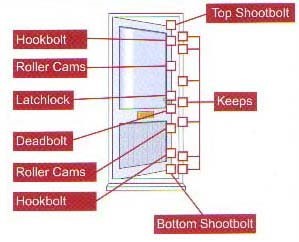 All our window openings have a minimum of 8 locking points, including:
No need to hire a window cleaner any longer for those high, hard to reach bedroom windows. Every bedroom window fitted comes with an 'easy clean' system, so you can clean the outside, from the inside! You can see a demonstration of this feature at our showroom now.
Our extensive range of finishes and specification available to suit every taste is sure to complement your home's individual style. Our windows and doors soar above standard when it comes to security. Your safety is of utmost importance to us. This themed with our thermal insulation features will guarantee to provide you the ideal solution for your safe and cosy home installation.