French Doors
Choosing the right door for your home ensures your safety and comfort! D'best Windows and Doors offers French Doors that are available in uPVC. We also offer the highest quality glass in our French and patio doors, and our anti-bump, anti-pick, pro locks resist levering.
A French doors are  lightweight door with glass panes, usually one pair. They are ideal for introducing a sense of regularity, proportion, and illumination because it is a window-like entrance with glass panes running for the majority of its length. Some French doors are utilized as entry patio doors as well as internal doors that separate two spaces. The following doors are favoured red on the market because they provide privacy while connecting two places visually.
Advantages Of French Doors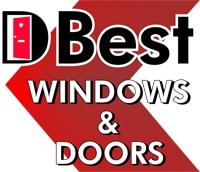 Frequently Asked Questions
One of the most significant distinctions between double and French doors is the material used in their construction. Double doors are frequently made of solid wood, but these doors are made with glass panes that allow natural light to flood the space.
Doors made entirely of wood are less robust and secure than those made of UPVC or aluminium, therefore French doors can be more secure and endure longer than their wooden double door counterparts. Furthermore, French doors often open outwards onto an outdoor location, creating extra space in your house and making the fixture excellent for tiny rooms with limited space.
These doors offer a unique way of combining protection and ventilation in one door. French doors can be used as both an entry patio door and an interior door to divide two rooms. These doors are popular because they provide some privacy while connecting two places visually. Furthermore, Patio French doors are commonly utilized with a screen door system and open into a deck or rear patio.
There will be no wrong decision because both are safe. French doors, on the other hand, are thought to be particularly safe because any lock or security system may be adapted to match the door and increase its protective value. You can also customize any lock or security system to fit the door and improve its security.
Contact
A porch door can be an advantage on your home when welcoming guests and keeping the outside environment vibe. If you are confused about what type of door to purchase, you can freely contact us on our page or in the form below. Will surely take your concern immediately!
D'Best Windows & Doors is a family run business located in Swords, Co. Dublin.With over thirty years' experience in the industry, we supply PVC windows and doors, composite doors and conservatories to properties throughout Leinster.
Mick began his glazing career with an apprenticeship in 1981, and still works his passion in the window business today. Following successes in family glazing companies through the years, he expanded to D'Best in 2007. There's one thing which has remained throughout the years: customer satisfaction.
He and his team have now further expanded to open a brand-new windows and doors showrooms in the Swords area. You can find our range of composite doors, PVC windows and more on show at Unit 16 Seatown Business Campus, Greenfields, Swords, Co. Dublin.
The D'Best team of fitters are highly qualified, efficient and courteous. We always operate to the highest standards when working on your property. This is while doing our utmost to keep any disruptions to your daily home life to a minimum.
And it doesn't stop there! Our after-sales customer care team is always available to follow up any surveillance work finished, so you can be assured of 100% satisfaction and the perfect finish every time.
All enquiries are welcome, no matter how big or small your project, we would be delighted to hear from you!